Well, today's the day…I'm there…  The big 3-0!  And you know what?  So far, I feel pretty good.  In fact, I'm so excited, I've put together a fabulous 30th Birthday Giveaway–just for all my favorite readers!
Some of my fabulous friends who own small businesses have pitched in to make this a great giveaway and I can't wait to share what's up for grabs!  But first, I want to share a few of my favorite things.  My birthday is today (so you're too late if you haven't bought me a gift 😉 ), but if you know someone else turning 30 (or anywhere between 20 and 90), these might be great gifts for them too!
A Few of My Favorite Things
1. Craftsy Gift Cards: Craftsy's online classes are amazing.  You can pretty much learn anything!  Some of the basic classes are free, but more complex classes cost a little bit.  Their prices are really reasonable though and they are having a big sale for the next few days!  What woman wouldn't love to find out you'd bought her classes and planned to watch the kids while she learns the craft she's always wanted to learn?  Sounds like a winner of a gift to me!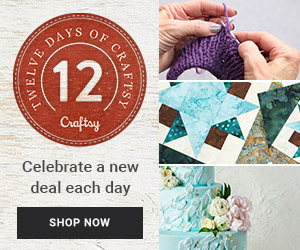 2. Flirty Aprons: These aprons are SO cute!  Have you seen them?  I love wearing my apron and would love it even more if I had one THIS cute!!  Right now, Flirty Aprons is having a big sale!  You can Save 30% and get FREE shipping on any purchase this month with code NEWYEAR30.
3: Andrew Peterson Music: I've got to be honest…Andrew Peterson is one of my favorite musicians of all time.  I have most of his CD's but not all.  This one is on my list to purchase someday.  Other music I love includes Derek Webb, The Piano Guys, Fernando Ortega, Celtic Woman and John Denver.  Yes, I know…quite the variety.  Love it all though!
4. Hot Designs Nail Pens: Okay, call me a little girl.  I'm fine with it.  My girls went to their grandma's today and their aunt did these adorable designs on their nails with these nail pens.  I'm going to have to get me some!!  They look like too much fun!!
5. A Shutterfly Photo Book: What mom doesn't take loads and loads of pictures?  I know I do!  But if you're like me, your photos most likely sit on the computer and never get printed.  A photo book is a great way to display the photos you love!  Sneak into your wife's picture file, upload your favorites, and BAM!  A great gift!

6. Yarn!  You should have KNOWN this would be on the list!  I just love yarn.  I love shopping for it new, I love finding it as a nice surprise in a thrift store, and I love getting it as a gift!  Pick out some pretty yarn and the crafty lady in your life will be thrilled!
7. A Laminator: I just got one of these for myself for Christmas and I LOVE it!!  If you're married to a homeschool mom, she's GOT to have one!
And now, for the most exciting part!!
My 30th Birthday Giveaway!!
There are nine different small businesses represented in this giveaway and I'm so grateful to each one for participating!  Be sure to visit each one and show some love!
#1: European Charm Bracelet from Beads 2 Inspire
#2: One Year Menu Subscription from The Grocery Shrink
#3: Three Day Trial of Plexus Products
#4: One Sheet of Jamberry Nails
(Nails in giveaway are the choice of the consultant)
#5: Dysfunction Junction Ebook
#6: $20 Credit to Thrive Foods
#7: Multi-Colored Infinity Scarf from Treasures from Home
#8: Young Living Essential Oils Thieves Trial Pack
#9: A SURPRISE Gift from Works of Her Hands Crochet (That's me!!)
You want to know why it's a surprise? Because I haven't made it yet!  When you win, you'll get to tell me a few things you LOVE from my store (or even from Pinterest) and I'll make you what YOU like!  Happy birthday from me!  🙂
Thanks for celebrating with me!!
a Rafflecopter giveaway