This year, our family has reviewed several homeschooling products and have enjoyed doing so.  But when we were asked to review the Preschool Curriculum from La La Logic, I was the most excited I'd been about any of the products.  From what I'd seen, La La Logic Preschool Curriculum was something that would cause my children to think in a way that they wouldn't normally.  I was not disappointed!
About La La Logic Preschool Curriculum
La La Logic Preschool Curriculum provides 100 weeks worth of lessons.  Each week includes a brain challenge, a worksheet, and two enrichment sets.  A small part of the lesson is done online and the rest is downloaded and printed.  Each week also comes with a checklist to use throughout the week and a place to keep notes about your child's goals, progress, and what they enjoyed most.  The lessons are laid out to do one part each day, but since some of the activities are optional, I found I could easily do two or even three of the activities in one day which worked great with our busy schedule!
Each activity only takes 20-30 minutes to complete, so it's perfect for both squeezing into a busy homeschooling schedule and keeping your child's attention.
La La Logic Brain Challenge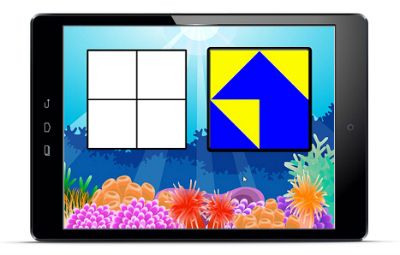 The La La Logic Brain Challenge is the part of the preschool curriculum that is online.  There are so many different types of logic brain challenges that cycle through that your child is highly unlikely to get bored!  I did these with both M (almost four) and H (almost five).  M struggled with some of them, but I think it was more because she was learning how to use the computer mouse than anything.  They seemed to be just the right level for her.  H, on the other hand, flew through the brain challenges, but still really enjoyed doing them.  She likes solving puzzles and things like that, so this was right up her alley.
Here is an example of some of the Brain Challenge games.  As you can see, the colors are bright and the pictures are visually pleasing.  But along with that, the challenges are unique.  They're not like every other program out there (typical math, reading, etc.) and they cause your child to think outside the box.
La La Logic Worksheets
When I say worksheet, those of you who believe the way I do about how preschoolers ought to be learning probably want to run and hide.  I'm NOT a worksheet person during the preschool years.  In fact, my daughters LOVE doing worksheets and I think it's mainly because we do SO FEW of them!  But La La Logic worksheets aren't your run-of-the-mill, fill-in-the-blank, count-the-stars, worksheets.  Here are a few that we really enjoyed.
This worksheet had M cut out the pictures, then lay them in order on the other rectangles, 1-4.  The pictures were of a flower pot with just dirt, one with a sprout, one with a flower bud, and one with an open flower.  Although we have sequencing cards, I love that this incorporated cutting skills and also included the numbers so we thought to talk about the words first, second, third, and fourth while she worked.  
Both the girls loved this worksheet!  H cut out all the shoes, then sorted them into pairs.  We then determined how many pairs there were (8) and how many shoes there were (16).  Determining the number of shoes was a little difficult for M and definitely got her to think.  It was easy for H, but led to us being able to count by 2's.  A new skill for both girls!
Both girls enjoyed this worksheet as well.  Can you guess whose is whose?  🙂  This was a pretty basic sheet and I was wondering where the logic was…until we read the questions at the bottom.  "Which symbol appears the most times on the page?  Which appears the least?"  Are you seeing the trouble here?  This really got the girls thinking.  We counted all the stars, squares, and triangles multiple times and tried to determine which was most or least, but finally concluded that they were trick questions!  They were all the same!  Definitely an outside-the-box question!
La La Logic Enrichment
The La La Logic Enrichment activities were our favorite part.  They are all active and mostly involve games to play with your child.  Some are short stories with questions and activities to go along with them, others are math games, while others involve the scientific process.  Each one is vastly different so neither you nor your child will get sick of them.  The enrichment activities span two different days of the week (generally Tuesday and Thursday) and are generally related activities.
My favorite activity so far was a counting game.  You take an object and whoever has it says a number, then passes it on.  The next person says the next number, and so on.  Wow, was this tricky for my girls!  M wanted to say the same number twice while H wanted to say all the numbers with me.  That's part of the activity for the first day.  On the second enrichment day, you start with a number other than one.  This was also tricky, but fun for the girls.  I would start at a number between 1 and 10 and they wanted to count backwards!  We all had a lot of fun throwing a ball back and forth and seeing how high we could count without making a mistake.
Would I Recommend La La Logic Preschool Curriculum?
Absolutely YES!  We've gotten so much good in the short six weeks we've been using this program and I see it befitting us for years to come!  Although the activities are simple, they offer a lot of bang for your buck so to speak.  Your child doesn't get frustrated, but they're really using their brains to think through things.  This is huge, compared to many other preschool curricula I've looked at in the past.
La La Logic Specifics
La La Logic Preschool Curriculum is a 100 week program.  When you purchase the program, it's yours for life!  That's right–no monthly fees!  Your login never expires!  (That is HUGE for me!!)  You can track progress for up to five children.  The Brain Challenge is all online, so you'll need access to internet via a PC, Mac, iPad or Android tablet.  Be sure to visit La La Logic on Facebook!