Well, H. is officially in Kindergarten now and you know what that means!  Learning to Read!  So I was super excited when I got the chance to review the Horizons Kindergarten Phonics and Reading Set from Alpha Omega Publications through the Homeschool Review Crew.  I'd heard good things about Horizons and was excited to try it out myself.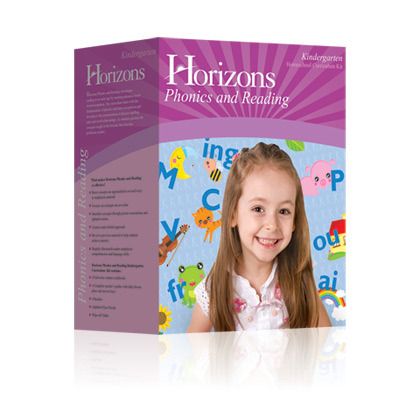 When our Horizons box arrived, we were so excited to get started!  H and I anxiously opened the box and took out all the materials.  Horizons Kindergarten Phonics and Reading comes in four levels.  There is a teacher book, a student workbook, and a reader for each level.  Both the workbook and the readers come with brightly colored pictures and very good graphics.  Along with these books, there was a large alphabet floor puzzle (paper that they recommend you laminate), and a lined whiteboard and marker.
H wanted to jump right in, so we started on page one of level one and began.  It was then that I realized I was going to have to do a little tweaking.  The first 26 lessons are the individual letter sounds and H has pretty well mastered those.  That week, I went through the teacher's manual and put post-it tabs on the lessons I thought would be beneficial.  We ended up doing the vowels and then just skipping to blends.  We do reading three times a week and that worked just fine with this program.
The lessons are fairly consistant in their structure.  At the beginning, the new sound is introduced.  There is a story in the reader read to go along with the sound.  Then, there are practice sections in the student's book.  Since it is kindergarten reading and it's all new to H, I sit right with her most of the time.  There are usually some silly sentences, some copywork, some matching activities, and some simple reading.
The way a Horizons Kindergarten lesson is set up, the child is reviewing and adding to their abilities as they go.  For example, on the lesson for the letter "o", not only do they learn the "o" sound, they also practice previous sounds.  They might read, "got", "hot", and "pot".  Often, there will be a "trick" question thrown in as well.  With the above example, the next word might be "fat".   This is not only fun for the child, but it encourages them to pay close attention and actually read rather than just getting into the groove and guessing.
As the parent, I love that Horizons Kindergarten lesson are all laid out for me.  If there are nine activities in the student book, there are nine sections to tell exactly how to teach each part.  The answers to the questions are also in the teacher's book right on the page with the lesson.  This is helpful because sometimes it's difficult to know what the pictures are, or what word they want the student to say.  Horizons definitely makes teaching reading simple for the parent!
H's favorite part is the silly sentence matching.  There will be a sentence like, "the cat in the bath".  Then, she'll have to match that sentence to the picture of the cat in a tub full of bubbles.  She likes that it's silly and I like that she is enjoying reading!
The handwriting is definitely not H's favorite part, but we both know it's a necessary evil.  She LOVES drawing and writing, but because she's a perfectionist, she doesn't like messing with making her letters and feels like it takes too long.  I'm also working with her on her pencil hold, so I'm not popular for that either.  What I do like about this part of the program is that it saves me from having to purchase a separate handwriting curriculum, it goes along with the lesson, and the writing time is generally short and broken up with other parts of the lesson.
The best thing I can tell you is that, even after a few short weeks of only having lessons three times a week, H is already becoming a better reader!  I've noticed a big difference and I know I have Horizons Kindergarten Phonics and Reading to thank!
Be sure to visit Alpha Omega Publications on Facebook, Google+, Twitter, Pinterest, and Instagram.