We've been fortunate to be able to review many great products in the past year through The Old Schoolhouse Review Crew, so I was feeling a little disappointed as the year was coming to an end.  I was pleasantly surprised that we had the chance to review one more reading program, Reading Kingdom Online from Reading Kingdom.
Reading Kingdom Online is an online program geared toward children age 4-10 that focuses on sequencing, motor skills, sounds, meaning, grammar, and comprehension.  It really breaks outside the normal "phonics" mold into a different way of teaching reading.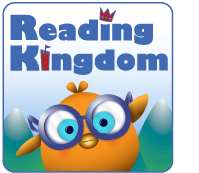 First Impressions
I decided to use Reading Kingdom Online with M. She's 4 and hasn't really begun learning to read at all yet.  She knows the alphabet, but that's about it.  I sat down with her while she took the placement test.  Since everything was new, she quickly got frustrated.  She wanted me to help, but the program clearly states (several times) that the parent is not to help the child.  So I just told her to watch it like a movie if she didn't understand.  The program is setup so that if a the child doesn't answer in a certain amount of time, it moves on.
Obviously, M was placed in the very lowest level.  Her two "courses" were Seeing Sequences and Letter Land.  The lessons began and we were still really frustrated.  There was no instruction, the program just moved on, even if she didn't get it.  In spite of what it was telling me to do, I paused the program and explained to M what she should be trying to do.  This helped a little, but it was still moving too fast.  She couldn't find the keys on the keyboard quickly enough before it would move on.
After several days of this, I decided to go searching for a way to move her back a level or something.  It was then that I found that you could change the amount of time it gives your child to respond.  This made a WORLD of difference!!  M had time to think, to find the letters, and was having success!  And I was finally able to give this program a fair chance.
Seeing Sequences
M's placement test showed that she needed work on letter sequencing.  It started out showing a few letters in a row.  For example, p r a.  Then, underneath, there would be those same letters along with some others.  For example, p t r e m a.  The idea is that the child will click on the letters p r a in the order that matches the letters on the top row.  They make left-to-right reading SUPER important…as it should be!  Every time, the teacher-voice says, "go this way" and this arrow goes across the screen.
It took M a little while to get this, but once she did, she was an expert!  
Now, the program has moved her up to actually picking letters out that make words.  Instead of being random, there are short words like cat, dog, jump, and run.  After she did well with that for a while, the program added another twist.  Now, the top word disappears.  
She gets to see it for a few seconds and then it vanishes and she has to recreate what she saw.  As she types the letters, they pop back up above the box.  If she gets them wrong, there's a little man (or ice cream cone or kangaroo) that pops up and says, "no-no, no-no".  This is probably my least favorite part of the program.  I really prefer positive reinforcement like, "try again!" or "not quite".  But it's not enough to make me dislike the program.  See the sad ice cream cone?
After a mistake is made, the computer shows the child exactly what to do.  The word is put back up and the teacher-voice says, "click these".  The letters then flash in the order they are supposed to be clicked.
If the child gets it right, there is a little happy thing (mushroom, alien, etc.) that comes on and cheers.
There is also a picture of whatever word was spelled so that the child can connect the word with the actual meaning.
I really think this part of the program is valuable.  M seems to have made a lot of progress in sequencing and going the right direction in just a few weeks!
Letter Land
During the Letter Land portion of the lesson, M is learning to find letters on the keyboard and type them.  She's not using correct hand form or typing with all her fingers, but she is learning where the letters are located.
In the beginning, there were little fish in bubbles that you had to pop so the fish could swim away.  You would pop the bubble by typing the letter that was on it.  The program started M with only the QWERTY row.  Once she was doing well with those, it added the middle row, and finally the last.  She's also learned to use the space bar, the shift key to capitalize, and the comma and period.  She's done really well with this and can find the letters on the keyboard faster than H usually!
Now that she's moved up, she has alien ships to hit instead of bubbles.  When she hits a ship, it explodes.
Overall, we've had a really good experience with Reading Kingdom.  Although we started out frustrated, once we figured the programs out, M really started learning a lot!  I feel like she's made great headway already and we plan to continue to use it.  We might even consider switching H over soon.
UPDATE:  M is doing SO well with this program!!  I have been letting her do it 3-4 days a week when I am doing other things with H and I peeked in on her the other day to find her typing out the word "pets".  I have NOT worked with her on spelling, typing, or reading and she's spelling words and reading words on her own.  I'm loving what Reading Kingdom is doing for her!
This is a subscription program that you can try for free for 30 days.  After that, it's $19.99/month per child or $199 for the year.  You can add students for a slightly smaller fee.
Visit Reading Kingdom on Facebook, Twitter, and Pinterest.